Posted By
JohnScott
on July 6, 2012 at 3:59 pm
in
Friday Five
Friday Five – Patriotic Characters
Welcome to the Friday Five! Each week we help you get to know our writers a little better with the help of a Top 5 list!
So we're a little late, what with the Fourth of July falling in the middle of the week, but this is the closest we're going to get this year to a holiday falling on a Friday, so we went with it. This weeks topic is patriotic characters. While we here in the states just celebrated our big holiday, patriotism is by no means limited just to Americans, as our choices show.
JohnScott
USAgent – Avengers West Coast – Basically the west coast equivalent of Captain America.
American Maid/Captain Liberty – The Tick – A heroine in a flag themed maid costume? Count me in!
Hulk Hogan – WWF/E – It's tough to pick just one WWF/E wrestler who best exemplifies America, as many wrestlers have done the patriot gimmick, including: Sgt. Slaughter; Lex Luger; Hacksaw Jim Duggan; the U.S. Express; The Undertaker. I'm going with the Hulkster because he is a real American. He fights for the rights of everyman. He fights for what's right. He fights for your life. He's gotta take a stand. He can't let it slide.
Rocky Balboa – Rocky IV – Wearing those kick ass American Flag trunks and defending us from our greatest Cold War enemy, Russia and Ivan Drago.
Superman – He stands for Truth, Justice, and the American Way. Can't get more patriotic than that.
Chris
Mel Gibson – Braveheart
Mel Gibson – The Patriot
King Leonidas – 300
Brad Pitt – Inglourious Basterds
Gary Johnston – Team America: World Police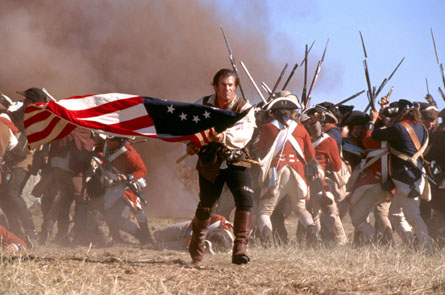 Eric
Abraham Lincoln – He fought a tireless war against vampires.
Steve Rogers – The one and only, Captain America!
Norman Osborn – Sure he's technically a bad guy, but he had some pretty bitchin' armor as the Iron Patriot.
BATMAN – While not patriotic in the sense of country, he is very patriotic toward his city. Close enough for me.
Optimus Prime – He might not have his own planet to fight for anymore, but he will stop at nothing to protect his new home.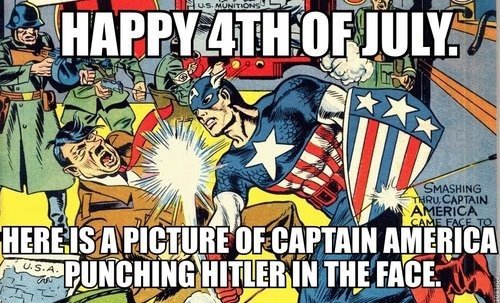 While we here at One-Quest try to primarily be a funny pop culture/video game/comic book site, with the utmost seriousness we ask you to remember why we get to be patriotic: the heroes of our military. Do what you can to help out our Veterans in your own way. Our suggestion? Our friends over at theChive share the story of one true Patriot, Taylor Morris, that I encourage you to read. You can follow his story here, here, here, here, here, and here. Be forewarned though. It will make you misty.